Platinum Fish
The Platinum Fish is a small fish very similar to the Mediterranean goby.
In Frozen Apollo we offer it in boxes of 250 gr of frozen platinum fish, ready to defrost, flour and fry.
Recommendations
Store at a maximum temperature of -18ºC. Once defrosted do not refreeze. Defrost and prepare to taste.
Format
Box of 250 g
Size
5-7 cm
Origin
FAO-61, Asia
Scientific
denomination
Neosalanx tangkahkeii taihuensis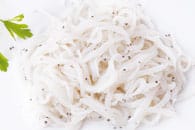 CATÁLOGO DE PRODUCTOS