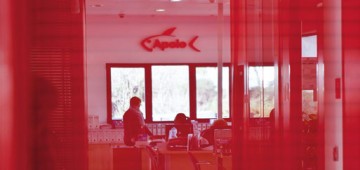 Since its inception in 1963, Congelados Apolo S.L., has grown steadily to be among the most important companies in the frozen products sector, bot at a regional level in Andalusia, as well as in the rest of Spain.
Our facilities are located in the town of Loja, strategic point for distribution throughout the region, and in them we have the machinery and the most innovative systems in the food industry for the processing of frozen products, either fish, seafood, ready meals, vegetables or frozen seafood, which is one of our most recognized specialties. Here, we process and commercialize all production directly. These systems include a cooker seafood that can be prepared with the highest quality up to ten tons of product per day in an absolutely controlled form.
Our Mission
We manage the importation of frozen products from others countries around the world in a comprehensive service in which we cover all phases, always looking for the highest quality at the best price in the international market, and to take this process up until the final consumer.
At Congelados Apolo S.l. we evolve in this industry , thereby incorporating new products systems, presentations and guarantees aimed at the client. From our facilities, we offer direct and individualized service, to offer high quality products in a manner that can be adapted to every need.